B. Kosuge
2013 Pinot Noir, Sonoma Coast
Tasting Notes
The 2013 B. Kosuge "Sonoma Coast" Pinot Noir is garnet in color in the glass. The nose opens slowly over time revealing aromas of wild berry fruit, luring spice and unmistakable energy about them that is very compelling. A full mid palate with lively flavors of mixed red fruit and savory, with a nice punch of toasty French oak. Well rounded, and firm tannins bring it all together to satisfy the palate. Like most well made Pinot, this one likes a little air.
Hirsch Vineyard
Because the "true" Sonoma Coast, where Hirsch is located, is almost entirely mountainous, the percentage of plantable land on any parcel is quite low. Much of the land is too steep to farm, and for the most part all that is planted is what lies atop the various ridges. Ridgetop soils are often highly eroded, which is usually good for winegrapes because much of the organic matter is leached out and the ground tends to be well drained. It is also highly exposed to the sun and to the wind as well. The vineyard is subject to the cooling influence of the ocean, but it is high enough in elevation that it is above the fog much of the time. In fact, if you were the same distance from the ocean as Hirsch vineyard but at or near sea level, it would be too cold to ripen grapes. The area also has a tendency toward extreme weather in the spring. But the wines from this place (producers including Kistler, Littorai and Williams Selyem) have a wild berry fruit, luring spice and unmistakable energy about them that is very compelling.
Barlow Homestead Vineyard
Located just to the northwest of Sebastopol. It is farmed by a gentleman named Paul Sloan, who brings a singular approach to winegrowing. He farms several small parcels in the Sonoma Coast, and all of the sites he farms are planted to tight spacing--generally one meter between plants and 1.3 meters between rows, yielding 3600 vines per acre. Very much inspired by the vineyards of Burgundy. But he has adapted his practices to the Californian climate (for example, the fruiting wire, often only 18 inches above the ground in the old world, is higher in his vineyards to avoid the reflected heat from the ground in our hotter climate). The care and attention to detail that is lavished on these vineyards is inspiring. A pioneer, in my view, and exactly the kind of grower I want to work with. In addition to the high density plantings, he uses techniques drawn from Biodynamic and organic farming.
Winemaking
2013 was one of those rare vintages when quality and quantity were not mutually exclusive. Byron had, for the second year in a row, enough wine that he could "cherry pick" the best barrels for the Habitat and Hirsch bottlings he makes, and still have some great wine leftover to bottle at a lower price point, which is exactly what he did.
Seven barrels were left out of the top tier, about two thirds of it from Hirsch and the other third from the two vineyards that comprise The Habitat. As it turns out, all of the new oak from the three lots went into this blend, so there is a nice punch of toasty oak.
His 2013 Pinots in general were slow to open up, particularly in the aromatics, giving them more of a "classic" structure. Great with food, The pricing on this wine makes it a good restaurant wine, as well as a worthy accompaniment to your daily table.
Tasting Notes

PDF
---
About B. Kosuge
Byron Kosuge, Winemaker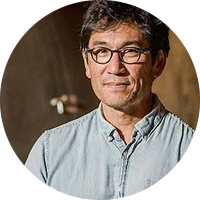 Byron was born and raised in the Central Valley town of Davis, California. Yes, the one with the University. His late father grew up on a farm in Colorado before moving to California and becoming a university Biochemist, so there is farming in his blood. It took a few years for wine to find him. He studied English and American Literature for several years before settling on wine as a vocation. The first fifteen years of his winemaking career were spent making wine at Saintsbury in Carneros, where his obsession with the Pinot Noir grape began. After leaving Saintsbury in 2001, he continued to make Pinot Noir and Chardonnay for Miura in California where he continues to consult and, in 2003, for a new Pinot Noir/Sauvignon Blanc/Syrah project in Casablanca, Chile named Kingston Family Vineyards.
More recently, he began making wine for McIntyre Vineyards, an estate project based in the Santa Lucia Highlands, Small Vines Wines, an estate based property with several parcels in the Sonoma Coast and Alder Springs Vineyard, in Mendocino County. In the midst of all of this, he started his own brand in 2004.

Byron would never be described as a "rock star" winemaker. He's much too ordinary for all that. He doesn't have a fancy winery, didn't make wine in Burgundy, Won't appear in the society pages. He does, however, spend a great deal of time and energy thinking about the vines he works with and the wines he makes.
Over the years, he has found a way towards what he hopes is a "new tradition" of winemaking, largely inspired by old world methods, but recombining them in ways that seem to suit New World conditions. Anyone with more than a passing interest in wine knows that New World and Old World wines arise in pretty different conditions, and yet we mostly insist that what works in Burgundy, should work in California. Byron questions that premise. Why not be brave and chart our own course!
Learn more at www.bkosugewines.com.
Shipping States
As a reminder, due to legal restrictions on shipments of wine and other alcoholic beverages, we are only permitted to ship to the following states: AZ, CA, CO, CT, DE, DC, FL, GA, ID, IL, IN, IA, KS, KY, LA, ME, MD, MA, MI, MN, MO, MT, NE, NV, NH, NJ, NM, NY, NC, OH, OK, OR, PA, RI, SC, SD, TN, TX, VT, VA, WA, WV, WI, WY.