MUSCARDINI
Kenwood, California
Today we are featuring NEW wines from our old friend Michael Muscardini. The highly-touted 2015 vintage is just beginning to shine.
Muscardini's Cabernet Sauvignon, Sangiovese and Zinfandel, are all full body styled reds, and pair with a wide-range of Cuisine, including all your favorite Autumn foods. Harvest is here, so grab a glass and enjoy some of our favorite wines from Michael Muscardini!
These 3 available now for exceptional pricing, and $0 shipping for 4 or more bottles.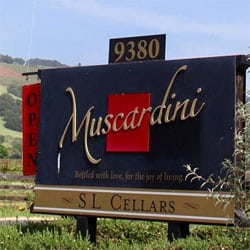 FREE shipping on 4 or more bottles!
Orders ship temp control at no extra cost.
---
Shipping States
As a reminder, due to legal restrictions on shipments of wine and other alcoholic beverages, we are only permitted to ship to the following states: AZ, CA, CO, CT, DE, DC, FL, GA, ID, IL, IN, IA, KS, KY, LA, ME, MD, MA, MI, MN, MO, MT, NE, NV, NH, NJ, NM, NY, NC, OH, OK, OR, PA, RI, SC, SD, TN, TX, VT, VA, WA, WV, WI, WY.