Grgich Hills
Napa Valley, California
---
Today we're featuring Napa Valley Estate wines from the legendary Miljenko "Mike" Grgich, known as "The King of Chardonnay" who literally put Napa on the Map by winning the "Paris Tasting" of 1976.
For over 40 years, Grgich Hills has continued making distinctive wines with quality, consistency and longevity. World leaders such as Presidents Reagan, Clinton, Queen Elizabeth II and French President François Mitterrand have chosen their wines to serve at state dinners. Every day discriminating wine drinkers count on Grgich Hills to turn their dinners into special occasions.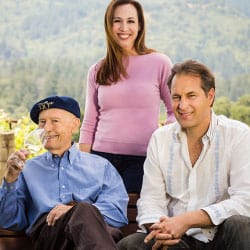 FREE shipping on 4 or more bottles! Mix & Match.
All orders ship temp control at no extra cost.
---
Shipping States
As a reminder, due to legal restrictions on shipments of wine and other alcoholic beverages, we are only permitted to ship to the following states: AZ, CA, CO, CT, DE, DC, FL, GA, ID, IL, IN, IA, KS, KY, LA, ME, MD, MA, MI, MN, MO, MT, NE, NV, NH, NJ, NM, NY, NC, OH, OK, OR, PA, RI, SC, SD, TN, TX, VT, VA, WA, WV, WI, WY.